Register here for LIVE VERSION of this Workshop!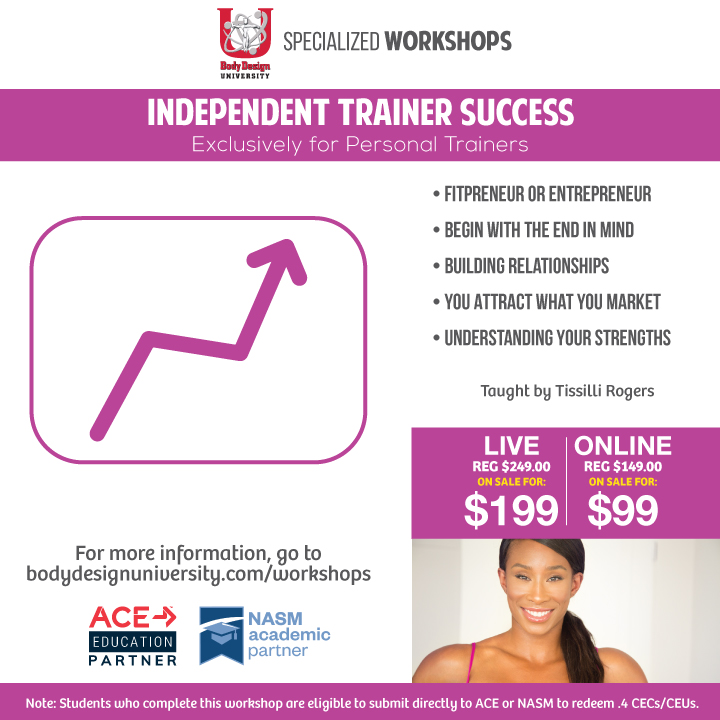 Trainers will walk away with a greater knowledge of what is needed to start an independent personal training business.
Training and transformations are only pieces of the business. Maintaining a business and staying passionate about the business are the true keys to success.
You will learn early in the workshop that owning a business is more than being a trainer, you are working entrepreneur!
Read what other students are saying!
"Great explanations. I can't wait to use it." – Chase Leonard
"Relevant and has helped me narrow it down to my target audience." – Antonio Dorsey
"The workshop was very well organized and better than I expected!" – Arturo Gonzalez
"Got all the information I needed plus more." – Jonathan Gramby
"Learned a lot and really enjoyed it. Great experience." – Shelby Boyd
"This workshop definitely increased my knowledge to help the clients I plan to serve. I learned so many new things, AWESOME!" – Tiffany Kelly
"The workshop was excellent and more than I expected. So glad I made the drive!" – Kelly Gay
"Relevant principles that are applicable to my current state of business." – Tracey Paulfrey
"This workshop is informative and very hands-on." – Franika Stradford