How to properly prepare and plan is everything to your competition!
Learn to develop a realistic plan and identify the steps involved needed to reach your goals. We will cover all the necessities for proper posing and nutrition. We also discuss the importance of picking the right suit!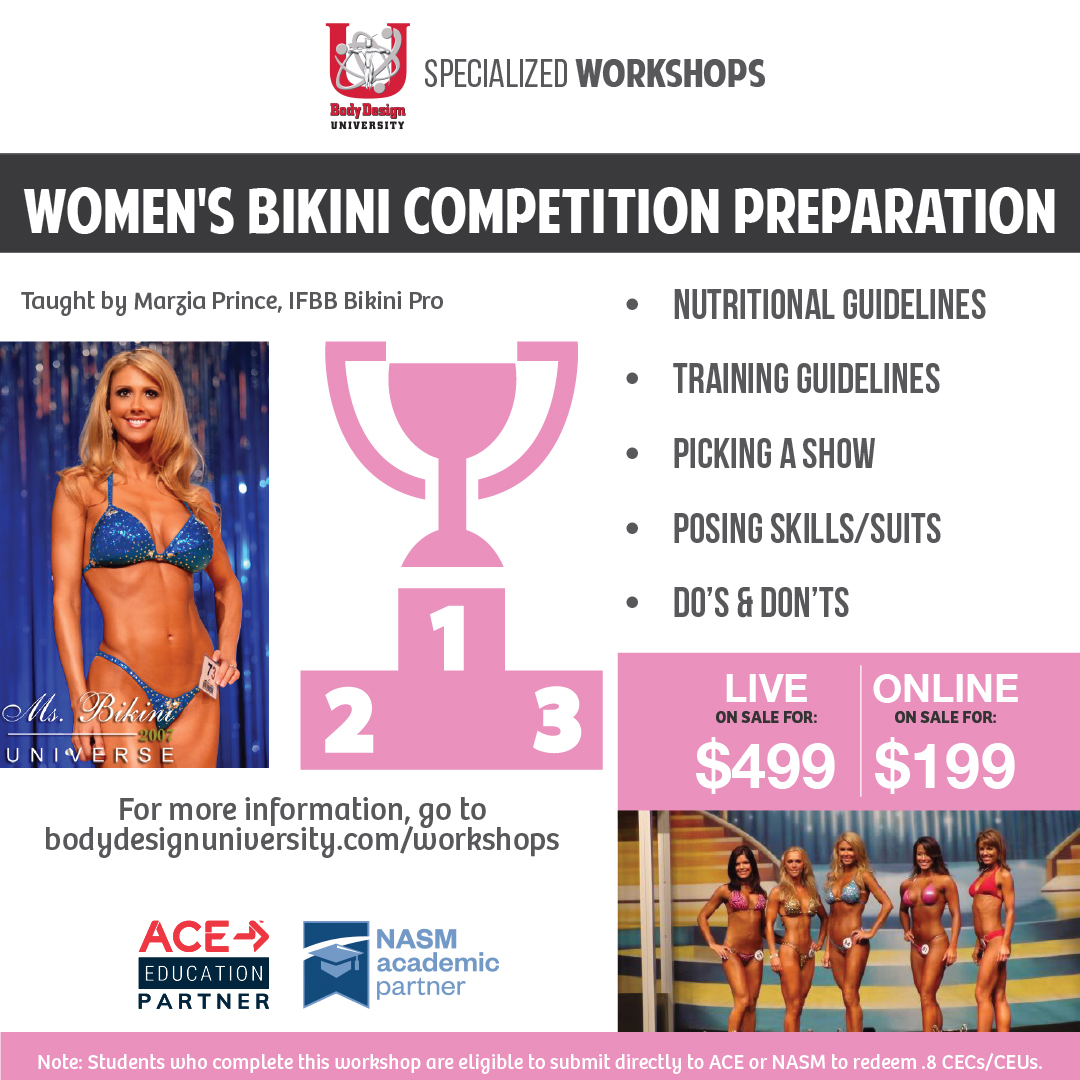 Marzia Prince is an award winning international fitness expert with over 12 years of experience. She is a certified personal trainer with expertise in all genres of fitness. She holds many certifications including physical fitness, pre/postnatal, geriatrics, nutrition, bio-mechanics in resistance training, and life coaching. Not only does she teach health and wellness, Marzia took her fitness to the next level and became a bikini fitness competitor in her 30's.
She went on to win the 2007 Ms Bikini Universe at 32 years old. This launched her fitness modeling career. She was one of the pioneers that brought the bikini fitness bodies to the bodybuilding world. She was also one of the very first IFBB bikini pros and earned the 3rd IFBB bikini pro card ever at 35 years old. She was an IFBB bikini pro competitor for 5 years which landed her a spokes modeling gig with heavyweight supplement giant Gaspari Nutrition. Marzia was the original Gaspari girl in their award winning ads. She has been on countless covers and layouts through the bodybuilding and fitness industry that include Oxygen, Iron Man, Fitness, Natural Muscle, and many more. Full bio.
COMPETITION HISTORY
2007 Ms. Bikini Universe Winner (1st place, 32 years old)
2007 Model Universe (3rd Place, 32 years old)
2008 FAME Bikini Championship Winner (1st place, 33 years old)
2008 WBFF Bikini Championships-Placed top 10 (6th place, 33 years old)
2009 NPC Florida Europa Bikini Championship Winner (1st place, 34 years old)
2009 NPC Junior USA Bikini Championship (2nd place, 34 years old)
2009 NPC Junior Nationals Bikini Winner-Earned PRO card this show (1st place, 35 years old)
2010 IFBB Bikini Pro Florida Europa Show-Placed top 10 (7th place, 35 years old)
Read what other students are saying!
"I learned how to accurately customize a meal plan using different body weights and body fat percentages and that will help me get my clients the best possible results." - Laura Mann

"I learned a lot about macro/micronutrients, meal prep and nutrition in general that will help get my clients the best results." - Crystal Dozier

"The workshop was excellent and more than I expected." - Kelly Gay